REVIVED!
I haven't done anything with this in over a year! Now I actually have a nice camera so I can take decent food porn.
A hodgepodge:
Breakfast:
Sunny Blueberry Corn Muffins (vwav)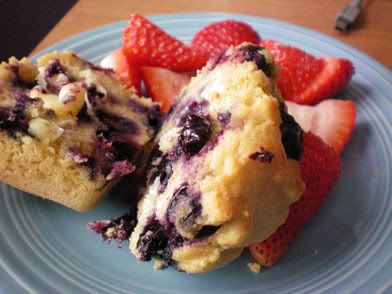 First time using big popover muffin tin.
Chocolate Chip Muffins (altered mocha chip muffins, ppk), for Jojo's birthday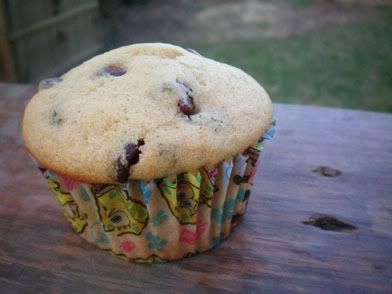 Note the Spongebob liner.
Chocolate Chip Muffins
1 3/4 cups all-purpose flour
3/4 cup sugar
2 1/2 teaspoons baking powder
1/2 teaspoon salt
1 cup soy milk
1/2 cup canola oil
2 tablespoons soy yogurt
1 teaspoon vanilla extract
1/2 cup chocolate chips
Preheat oven to 375, mix wet, mix dry. Mix wet into dry.
Evenly distribute into 12 lined muffin tins.
Bake 18-20 minutes, when a toothpick stuck in the middle comes out clean.
Dinner:
Pizza (with herbed whole wheat crusts, Cupcake's italian sausage, buncha veggies, some faux mozzerella), thanks to Mom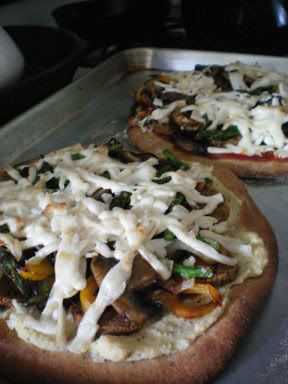 Mom's had tofu ricotta on the bottom while mine had tomato sauce. The chreese wasn't bad, not plasticy like some. I think it was Follow Your Heart brand Mozerella.
Cormeal Roti, Tamarind Lentils (WwaV) from me, Tabouli from Mom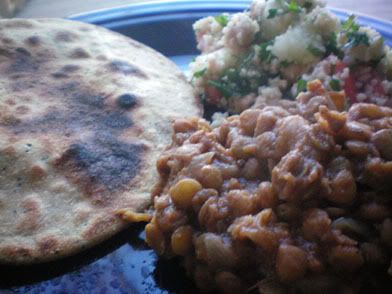 Butternut Squash/Sage/Tofu Ricotta 'Raviolis' in veg wanton wrappers by Mom and I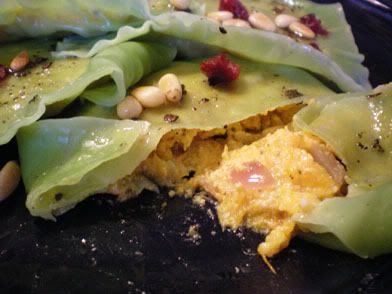 Dissapointing, but we were kind of making it up. It probably would have been good if we used
actual
ravioli shells.
BEETS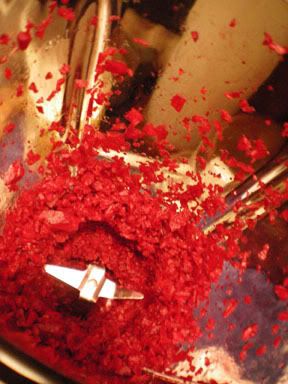 Unfortunately I don't have a pic of the autumn latkas they went into, and I discovered I don't like beets after making them.
Dessert:
Cookies and Cream Cupcakes (vctotw) for Jesse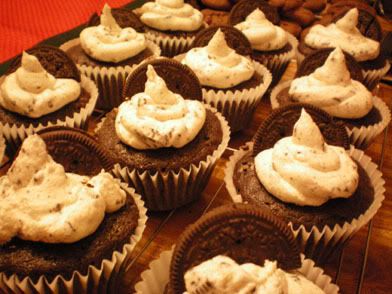 Made for someone I work with at the Inn who recently went veg. It was months after her birthday but I only see her a couple times a year.
Chocolate Chocolate Chip Cookies (ppk)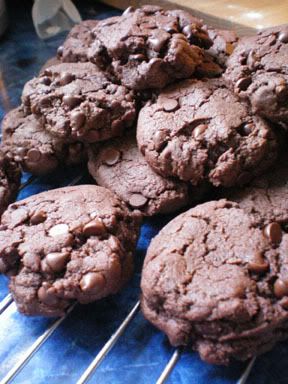 Accidentally came out kinda hard or dry...my fault.
Mag and I in chocolate chip cookie euphoria: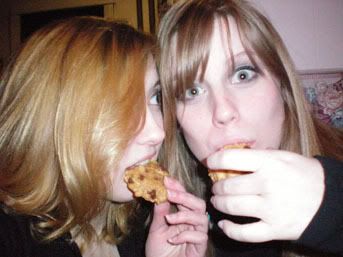 Labels: beet, blueberry, chocolate, chocolate chip, cookie, cornmeal, cupcake, lentil, muffin, people, pizza, ppk, ravioli, roti, tabouli, vcon, vctotw, wonton