Peanut Butter-Carob-Banana Cupcakes
Made this afternoon since I wanted something sweet. Started with a chocolate banana cupcake recipe off ppk.com, found out we have no cocoa, used a bit of left over snickerdoodle topping (cinnamon, cocoa, sugar) and carob chips, topped with plain ol' peanut butter. Shoved one right out of the oven in my mouf and it was yummilicious-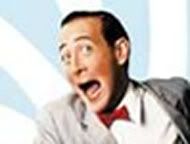 Ahh! Yummilicious!
So I guess the final recipe was something like;
3/4 cup sugar
5 tbsp vegan margarine
1 tsp coconut extract
1 banana mashed well
1 cup flour
about.. tsp cocoa powder, cinnamon, and sugar each
1/2 tsp baking soda
1/2 cup soymilk
half a bag of carob/chocolate chips

At 350 for about 20 minutes, makes 12-14.
Labels: banana, chocolate chip, cupcake, peanut butter